How Can You Condense Time Frames & Maximize Blogging Success?
Are You Looking For Great Ideas To Blog About While Squeezing The Most Out Of Your Time? 
Do you have a blog action plan? Having your own action plan plays a crucial role in the overall success of your online blog. In this article we will discuss some basic steps to make your blog more successful in terms of attracting visitors or other goals you may have.  Successful bloggers always know exactly what they will do to get what they want (even if they don't always spell things right). Unlike the bloggers who blog randomly and pray for success, they follow their own action plan.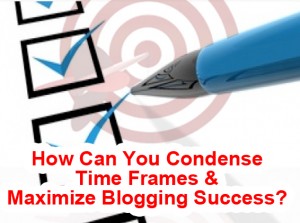 What Do Top Bloggers Do?
There are no hidden secrets; they create a plan to succeed. They don't just try their first time and succeed. It is through experience and practice; they train just like top athletes.  They list the tasks to be done, outline the strategies, and propose the tactics to achieve their goals. Below are three steps that will help you stay organized and focused as you build your blog plan.
How to Plan Your Blog Writing
Blogging Step #1 - Evaluate Your Writing Progress And Goals
Goals-Do you have blogging objectives and goals set for blogging? 
If you want to reach your goals, you have to stay focused on them. The purpose behind creating a blog can vary. Are you trying to attract more traffic and subscribers? Are you trying to generate money through online marketing strategies? Are you just sharing your expertise with other people? It is important for you to evaluate your blog and blog related posts to determine if your are achieving your purpose. Your readers will continue to follow you once they understand you are traveling down the same path with each posts towards your goals.
Audience-When you are writing your goals, keep your audience in mind.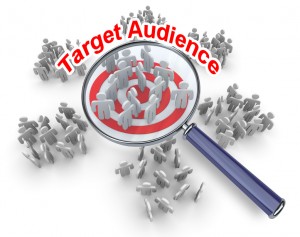 Who is your audience? What would they like to know about your niche? What problem can you help solve for them? How do you meet the needs of your target market? What makes your business or blog special from your competition? What are they really passionate about? What would they be Goggling to find?
End Results-Know what you are aiming for.
You cannot measure your progress until you know the end result you are aiming for. Each goal should be quantified and have a date.  Example of goals could be: number of posts per week, number of page views, number of subscribers, number of unique visitors, Google page rank, etc.  So it will look something like this: I will post  2 articles every week, with a total of 48 posts every 6 months. I will contact at least 10 blogs in my niche where I can submit guest posts. I will raise my blog's page ranking from 1 million to 100,000 by next December 1st.

Blogging Step #2 – Create An Effective Action Plan
Do you want to increase your blog traffic?
Then you need to know how to attract it and have a plan. If you don't have a plan, you won't know the odds and it will take longer to reach no matter what your goals are. If you get in the increasing traffic game and treat it like it is a sport you are competing in, it will start to happen. On the other hand, if you have no plan or goal, there will be no increase in traffic.
What is your action plan for your blog?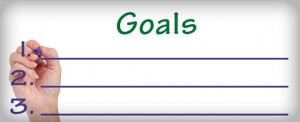 As soon as you have listed your aims and objectives, start prioritizing by listing tasks and set timelines in order to achieve them. You can set different priories for different tasks; it all depends upon how you set your goals and objectives. Knowing the "why" of what you are trying to accomplish speeds up your results. When you know the "whys" you will know what order to put things in.
Have you checked out what your competitors are doing?
Check out competitor blogs in your niche. Make notes of what they are doing right and wrong.  Don't steal their words, but copy the way they organize things. Your competition can give you great ideas for your business and marketing it as well. When you are all done with analyzing the competition go back to your to-do list of what you can do to make your blog stand out above theirs.
Questions To Consider As You Plan:
• How many hours can you commit to work on your blog every week?
• How often are you going to write?
• Will you be doing product reviews or writing tutorials? 
• Will you be answering customers frequently asked questions?
• Are you going to have guest bloggers, a staff of other bloggers, or tackle it all yourself? 
• What topics will you write about?
• What are the most pressing problems of your prospective clients?
• When will you publish your new posts, daily, weekly? 
• Are you going to outsource some of your articles for backup?
• Are you going to make some video blogs?
• Are you going to have podcasts?
• How many guest posts are you going to do?
• How will you promote your articles?
• How are you going to advertise yourself on social media sites?
• How often will you comment on others blogs?
Make an action plan based on the priorities of tasks.
Blogging Step #3 – Do The Work: Execute
Are you concentrating on the "why" for each tasks?
Constantly review your "why" of each task. Do as many of the tasks as you can do each day. Some tasks have to be put off until later as they will require you to wait for time or money. Keep reviewing your lists and checking off items. By concentrating on the "why" more than on the task, it will seem effortless. Keep in mind what it will feel like when you accomplishing your tasks. Feel the satisfaction as you cross each task off your list.
Are You Using Your Time To Optimize Your Talent?
You have to define your goals and objectives in order to become a successful blogger.  It all comes down to your niche, purpose, audience, and your way of action. Use your time to optimize your talent more.
Why is being consistent in blogging important?
Being consistent in blogging is important because it is the only way to increase readers and achieve blogging success. One way of being consistent is to keep the topics within your niche. If your blog is about dentistry then you want to make sure that is what you are blogging about. Be consistent is important with the amount of times you post your blog. Readers get use to reading your articles and look forward to the next one. Maintaining content and updating your blog shows your commitment to your readers and subscribers. Blogging isn't just about content it is about providing value and being the expert that helps them. Give your readers value in your content. Everyday action is the hardest one but so long as you have tried and added something meaningful every time you can't ever be down on yourself!
Back to you…
If you have a blog up and running, what has worked or has not worked for your blog? What other steps or tips need to be included that we did not mention? Will you try to plan out your blog? Please leave below a comment and share your thoughts. Share and Enjoy:
Posted on August 4, 2013
in Blog Writing Tips
2 Comments
2 Comments