April 21, 2015 Google Update-Mobile Websites

Do you know if your website is mobile friendly or not? Does it matter if it is not? What does it mean to be mobile friendly? Coming up this week Google will have an update on Tuesday, April 21st. In this article we will talk about how Google wants to provide more importance to mobile phone users.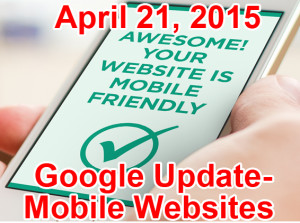 Does It Matter If Your Site Is Mobile Friendly?



Yes it matters if your site is mobile friendly. It comes as no surprise that a growing number of people are using mobile phones versus using a computer when using the Internet. Google is going to introduce a brand-new algorithm based on this growing trend and need. How is this going to change search? Well they will look at the usage patterns and modify the search results based on these patterns. They are going to reward sites that are mobile friendly.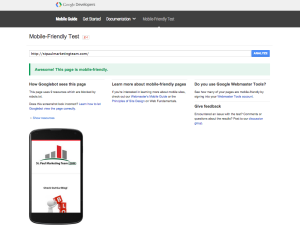 What Does It Mean To Be Mobile Friendly?



Can your website be viewable in all mobile devices? As soon as this update takes place websites that are mobile friendly will rank higher than those that are not in the Google search results page. So how do you know if it is mobile friendly? Does the website shift and adjust its design so on a small screen you can view it? Do you have to zoom in order to view it? Having to zoom in on a tiny screen can be frustrating and makes it more difficult to navigate on a mobile phone. This makes a difficult frustrating user experience.
Does Your Website Pass The Test?



If you want to know for sure if your site is mobile friendly or not check this out. Click on Mobile Friendly Test
WordPress & Mobile Friendly

Building your website with WordPress is great because you can have a website that has a flexible fluid framework that instantly adapts to match the device being used. All you need is a theme that is responsive. What does that mean? It means whether they are on a computer, an ipad, tablet, or mobile device the design will adjust to fit the device that you are on, this is call Responsive Web Design. With all these varieties of devices having a fluid layout makes more sense. After all you would want your website to be viewed on more than one device that provides great user experience.
What If My Site Is Not Mobile Friendly?



Did your site fail the test? If it did then you need to work on it now. After all customers are looking for your business on all devices now so your website needs to be flexible. When this algorithm change takes place you will want to rank above your competitors. If you need help call the St. Paul Marketing Team today to help get you back on track.
Back To You…



What do you think of this change and how do you think it will impact SEO on mobile searches?