9 Easy Tips To Improve Your Search Rankings With Facebook & Google+
Can social media networks like Facebook and Google+ improve your search results?
You bet they can!
Of course, there's a relentless, never-ending work that goes into it, but that's one of things every business must do. The payoffs are worth it. You are likely to hit two birds with one shot. With constant social media activity, your business can engage with readers and customers while prepping your business to be found on search results.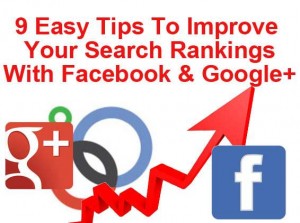 Here are a few tips to go about doing that:
Google+ Search Result Tip #1

 - Google+: Your Elite Ticket To Social Network And Enhanced Search Listings
Google built Google+ with a purpose (a dual-purpose, if you will):
1. It allows you to build a community and go social.
2. It helps your business "get found" on Google's Search Listings.
Google+  dominates Google Search results. Google -  Rand Fishkin's experiment with Google+ (searching for his own name). Let Google+ page flush your web pages – along with their own Google+ pages  in for better search rankings.
Google+ Search Result Tip #2

 - Use Google+ As A Mini Blogging Platform
If you ever had to do SEO writing, you may do it on Google+(and not so much on your blog). The best practices still apply: never write for the search engines, ever. Find ways to pepper your keywords or key phrases a couple of times within each post you create for Google+ page but never overdo. Google+ pages also give you more control on your content to help you edit content whenever you like (not so with Twitter -  Facebook has limited editing capabilities).
Google+ Search Result Tip #3

 - Google+ Is Your Indexing Catalyst
Anything shared on Google+ has a higher chance of getting indexed faster than normal webpages. Think of bringing in curated content, rewritten content that's already present on your blog, and even your social media posts on Google+ again. Let Google feed on your content.
Google+ Search Result Tip #4

 - Connect With The Sharks
The more you connect with the "influencers" on Google+, the better the chances of growing your Google+ network. Also, writing intriguing content for Google+ gets you noticed and makes "influencers" share your content. This works virally. Good content is shared; you are noticed. Google attributes more importance to your URLs when more people annotate, like, and share it.
Google+ Search Result Tip #5

 - 10 Minutes To Fame On Google+
If you could just put in 10 minutes of your time per day and get a lot out of it, would you? Google+ makes it well worth your time. Just post on Google+  short content, tag others, comment on others posts, share others' content, share your content, add a few awesome people on your circles, and allow others to add you in their circles.
Facebook: The Affable Social Behemoth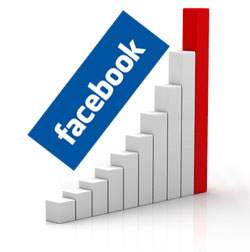 Can Facebook help to enhance your search results? Yes, it can, but to a much lesser extent than Google+. There are ways Facebook will affect how your web pages show up on search results on Google. There's also a lot happening within Facebook itself.
Here's what you need to do, beyond the basics:
Facebook Search Result Tip #6

 - Geo-target Your Posts
One of the unique benefits Facebook presents to marketers is the ability to geo-tag your posts.  Annalise Kaylor wrote a post on mistakes, "Your Brand Makes That Makes You Look Like A Social Media Rookie" where she reveals that geo-targeting your posts gets you a better edge-rank. Further, geo-targeting sends out strong social media signals that help with precision targeting as far your SEO efforts are concerned.
Facebook Search Result Tip #7 

- Engage In Open Forums, Events, And Groups
Facebook users (including brand pages) have ways to keep their Facebook activity private. For businesses, this can hurt. To maximize the reach of your Facebook fan page, engage with others on open forums, create events, and participate in groups. Search engines pick up all the content you produce in these forums.
Facebook Search Result Tip #8

 - Optimize Your Facebook Fan Page For SEO
Start with the basics such as picking the best name for your Facebook Fan page. Next, pick a "vanity URL". Set-up tabs on here on, it's SEO as usual. Inject keywords at strategic places on your Facebook Fan Page, fill up your profile, and create custom SEO-optimized content updates.
Facebook Search Result Tip #9

 - SEO Tricks Apply For Facebook Fan Page Updates
Rand Fishkin of Seomoz.org suggests using your best keywords at the beginning of every update. You may also use "notes" on Facebook to enhance content volume on your pages to make sure search engines find your page.
Back To You…
Are you going to focus on both Facebook and Google+? What's working better for you now? When you do a search for yourself or your brand name, what results are showing up?  Feel free to share your ideas in the comments below.
About Our Guest Blogger John Siebert: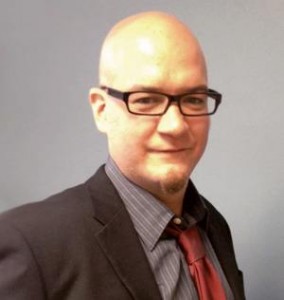 John Siebert, President of Tranquil Blue, is the premier professional of web design in Tampa. He boasts 10+ years experience in web design & search engine marketing. 
Visit John's website: http://www.tampawebdesigner.net
Connect with John on Facebook, Twitter, Google+, and LinkedIn. 
Share and Enjoy: