4 Changes Of Google Search

Why is it important for a local business to be aware of what is going on with Google search updates?



What is Google local search? Does your business show up on there? Back in August Google released the new local search display format. So what has changed? In this article we will go over the changes of how the information is displayed.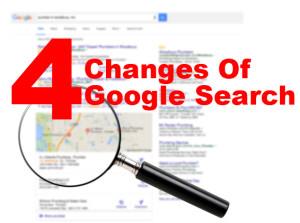 Local businesses are now displayed differently on the search engine results page (SERP). This did not change the way a business ranked but what people see when they are searching for your business. Type in what you are looking for to see these new changes. For example type in Dentist in Woodbury, MN or Plumber in Cottage Grove, MN. This will take you to the search results page. The rest of this article will be talking about the 4 changes on the search results page.
Change #1- Map Of The Local Area Shows Up First



First displayed are the Google advertisements and right below it the map or the city that you typed in with 3 red pins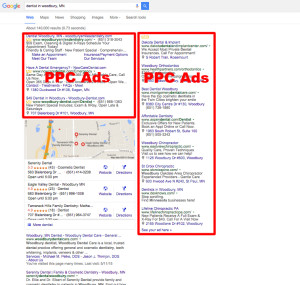 of businesses on it in the niche you typed in. Before this change you would still see the advertisements but below it was organic search results like articles or websites and then it would have 7 businesses displayed. The map was on the top right corner above the paid advertisements.
Change #2- Only 3 Businesses Show Up



Now only 3 businesses show up on the search results page. There are 2 icons on the right that say website and directions. Then below the 3 businesses it displays a link that says, "More Dentist" or more of whatever you had typed in. If you click on that then you can see more businesses in the area and it opens up a new page with a giant map. You can also see how many stars a business has rated from Google reviews. So what was this like before? Before there were 7 businesses displayed (A, B, C, D, E, F, G).
Change #3- Organic Search Results Moved Down



The organic search results were articles and websites that used to show up before the local business listings that are not paid advertisements. Now they are below the 3 businesses.
Change #4- Restaurants Have Filters On The Search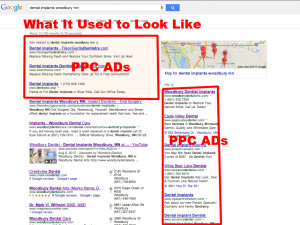 When you search for a restaurant right above the 3 businesses it says Rating, Price, and Hours. If you click on it will filter your selection. This means that getting reviews on Google+ is very important!
What Do These 4 Changes Mean For Local Businesses?
Reviews from Google+ are more important than ever. Having good ratings will now be a filterable part of local search results.
Another important thing is to optimize your website for local search. If you haven't done it yet now is the time. Your site should target a specific area or city like Woodbury plumber for Woodbury, MN. Your business name, address, and phone should also be consistent across the web. So for instance if your business is on Elm Street make sure all your listings display Elm St. where the street is abbreviated. If there is a listing that is found spelled differently like Elm Street then it can screw up the rankings and listing. This is why being consistent is so important for directory listings. Pay per click (PPC) is also gaining more importance. Google favors people that buy adwords. So if you have advertisements you are more likely to hold a position on the first page of Google's results and stay competitive.
If you are not one of three businesses listed for your niche you will most likely see a drop in website traffic. It will also reduce phone calls to all businesses, as the phone number seems to be hidden on desktop results. More businesses will invest in pay per click and the cost will go up with more competition. This benefits Google of course.
Back To You…
Has this new change with Google search changed your business? Have you noticed anything different since the change? Fill free to leave your comments below.