5 Simple SEO Tips To Optimize Your Website
How do you beat your competition, increase your visibility, and get traffic to your site?
SEO (Search Engine Optimization) is a technique used by webmasters to rank their sites/blogs higher in search engine rankings.  If you have enough money to hire a SEO company or SEO expert for optimizing your blog/sites then do so. However if you don't have the extra money to spend on hiring a SEO expert then there is no need to worry because you can optimize your website/ blog by yourself. SEO is a process involving experimenting and learning. What do you need to do to get started? Below are 5 simple SEO tip to optimize your website: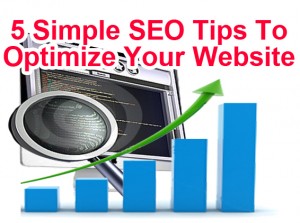 SEO Tip #1 

- Site Map Submission:
Do you want the search engines to find your site and index it? A sitemap is a list of accessible pages of a websites or a blog. Sitemaps provide page rank and link popularity to all the pages linked inside your site. It can help with the usability and site navigation.
There are two kinds of sitemaps: HTML sitemap and XML. XML sitemaps are treated well by the search engines. Sitemap submission is the first thing to be done when you want to optimize your site for the search engines. You should also submit your site map to the Google webmaster tool and Bing webmaster tool.
SEO Tip #2

 - Title Tags:
Does your site need a higher ranking? Title tags are an important aspect when it comes to optimizing your site for search engines. With well-optimized title tags, almost any site has a chance to improve their ranking.  With just a few small changes and you could rank for some very competitive phrases within a few weeks! Title tags are often missed as many web designers don't seem to bother with them. It is worth spending a bit of time going through your own website to check to see if all your title tags are relevant and unique for your webpage.
Don't be lazy and just put anything for the title as it needs to be unique. Title tags give a good indication about the content of your web page. Title tags should have less than 70 characters (counting all spaces) as search engines only show 70 characters in search results. Use of relevant keywords in a title tag is always suggested. Do not use the same title tag on more than one of your pages.
SEO Tip #3

 - Meta Tags:
Do all of your pages describe what differentiates your web page from the competition? Meta tags (Meta keywords and Meta description) are used to describe the content of a web page.  Meta tags are divided into Meta Keyword and Meta Tag.  Meta keyword tags are not as important as they use to be, but the Meta description tag is still useful. A Meta description should be between 50 to 160 characters (including spaces). It should include your web page's primary as well as secondary keywords. You should use keywords in a concise manner so the description doesn't look like spam. Each page needs a unique description because every page is different.
SEO Tip #4 

- Fresh And Original Content:
Do you want to be the authority of your niche? Does your site provide solutions, tips, and advice that no one else offers? Do you have a blog? There is no doubt that content is king and I believe it will be king always. To obtain better rankings in the search engines, write fresh and original content for your site or blog. Never copy content from others because this may lead to the removal of your site from search engine results. Update your blog/site at regular intervals with fresh and original content. Your articles should be fresh, unique, and useful to your readers.  The more fresh content you post the better rankings in the search engine and the more you will attract people.
SEO Tip #5

 - Backlinks:
Backlinks are the incoming links to a website or a webpage. Backlinks are considered the back bone of SEO. What matters most for backlinks is the quality of the link, not the quantity. The more qualitative and authoritative backlinks you have, the more value is given to your website or web page by the search engines.
Above are 5 simple SEO tips to optimize your website. There is no greater investment than SEO.  What SEO benefits have you found? What other SEO tips besides the 5 listed above do you feel are important?  Feel free to share your views about this post.
About Our Guest Blogger Ashish Kamble: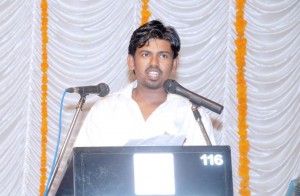 Ashish Kamble is the head of Operations and SEO at Parigh Technologies, an excellent provider of good SEO services. 
Visit his website: http://parigh.com
Connect with Ashish on Facebook, Facebook Fan Page, Twitter, Twitter Business Page, Google+,  and Google+ Busines Page.
Share and Enjoy: