Why Are Backlinks A "Hot" Topic?
Do You Want To Increase Traffic And Ensure High Search Engine Rankings?
After spending all your time, energy, and money getting your website just right you may think you are done. Correct? Wrong! All the time, energy, and money developing your site has been wasted unless people "Visit and See" your site! So for your website to be worthwhile you need to find ways for your site to be found by others. This is when link building will become your next goal to gain visibility and traffic.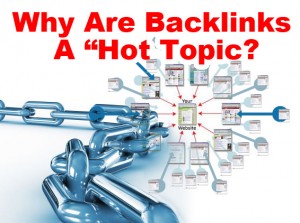 In this post you will learn what a backlink is, why you need them, how to beat your competitors, how to speed up the search engine recognition of them, and the end result of having them.     
What Is A Backlink?
If you found this article chances are you followed a link and clicked on it.
You may have seen it on a social media site, a forum, or you could have searched for it on Google, or found it by another search engine, and then followed the link to this page. A backlink is a clickable text that is linked to another webpage. When you click on the link it takes you to another page. They are called backlinks since the link points back to an article, website, or blog.
Each backlink that points back to your website is viewed in Google's eyes as a vote of confidence and relevance. Google, Yahoo, and Bing give votes of relevance to your website when the websites that link to your website has a high rating, quality of links, relevant content, keywords, and anchor text.
What Are The Benefits Of Backlinks?
Why do you need backlinks?  
Backlinks are like roads or driveways that lead to your website. If you had a bright neon sign in the middle of the dessert it would be seen by only a few people.  The same sign in the middle of a city would be noticed by many. Think of your website as being located in the middle of the dessert. How will people find you without roads? Links are the streets and highways connecting the pages. No one will know if your website exists nor be able to find you without knowing about it. Chances are if you don't do anything to get people to notice your website, the only person that is going to see it is you. You need to advertise your site! It is like setting up a new McDonalds in the middle of the ocean. Each backlink is a boat to take customers to your  business. Therefore, if want to increase the quality of traffic to your site and have others know about it, then you are going to need a lot of roads ( backlinks) for people to get to your website. You can't just put up a website and expect people to find it or get traffic.  You need to point the way to your website. You need an abundant amount of links!  Think of each blade of grass that is needed to make a lawn as compared to one lonely blade of grass that will be overlooked.
Why Does One Website Get Ranked Above Others On Google?
If you want to beat your competitors you need to be listed ahead of them.
If they have 5,000 backlinks and you only have 10, then you have a lot of work to do! Google values popularity and will show the website that has the most links because they classify it as more relevant.  However, it is not just the number of links; they need to be from higher ranking websites.
The page that appears after what you have typed into a search engine query box is the SERPs or Search Engine Results Page. Google gathers information with bots and spiders that scans millions of web pages and then it indexes them on SERPs.  The bots look at what a web page is all about (content and keywords), who is linking to them, and where the links go.
When that bots come across your webpage what will they find? Will your site look like a small town or a giant city? If it finds only one road (link), Google will think that this site is not very important. On the other hand if it finds a lot of sites linking to it, Google will view your site as important. Google will place the site that looks like the giant city on top of Serps where as the one that has one link might not even be listed or on the last page. Depending on your content, just a few links will boost it up enough to be put on display. The number of links is an important factor in getting ranked by Google.
Click On The Video Below To See What A Quality Backlink Is:
How Long Will It Take Before You See The Benefits Of A Backlink?
Don't expect instant results.  
Most search engines do not fully reveal all the backlinks they have indexed for a particular website. Also, your backlinks won't all show up on programs that track the backlinks.  Search engines classify the content on a site to determine the quality of the link. Those that it classifies as lower quality backlinks (links to sites Google classifies as lower in ranking) will take longer to be indexed since a low quality website is not crawled as often as a high one.  Google crawls popular authority sites more often. If you post them on higher quality ranking websites, you could produce some results in a matter of a few hours. If you post them on lower quality, lower Page Rank, lower traffic sites, it will take much longer to achieve. Placing your backlink on social bookmarking sites such as Digg, Delicious, Readdit, StumbleUpon, and Pinterest will get you listed in a couple of hours, as most of them have a higher Page Rank which makes them "hot".
The choice of keywords you want to go after is ABSOLUTELY critical. Going after the wrong keywords can cost you a lot of time, money, energy, and will slow down your results. Do this BEFORE you do anything else. Work on developing a list of keyword phrases you want to go after. Find out how competitive they are. Do the on page SEO and make sure the keywords on your page are readable by humans but enough so the bots can find the keywords in your content.  As Google gradually locates all of your links, it will update them. Google can't find all these links by just crawling your site; you must wait till the links on the other sites pointing to yours are found.
What Are The "Hot" Rewards Of Backlinks?
Making your website "hot" is where all the worthwhile rewards of building links are found!
Instead of hunting clients, you become the hunted through your website! Clients will find the hot bridges that bring them to you in a constant stable flow of hot traffic.  Building a real business that is rated "hot" by the search engines is found by earning a real profit that stands the test of time, is the end goal. The profit and the stability of your business is elevated when you stay at the top of the search engines as "hot" and is spelled m-o-n-e-y.
Now, It's Your Turn…
Do you have any tips to personally add about link building or backlinks? Do you have a list of favorite social bookmarking sites or other places to place backlinks that you use to rank fast?  If so, please comment below to share with others.
Share and Enjoy: