Extending The Shelf Life Of Your Content – The Easy Way

Are you a blogger or writer that is searching for a way to keep your content fresh and increase its shelf life?

When you publish a blog post it only stays fresh and in the public eye for so long. If you want to sustain your content for a longer period of time, you need to develop new strategies. Most of the successful content writers follow a pattern that is unique. Do you want to increase the shelf life of your content? This article provides eight strategies that can extend the overall shelf life of the content you created so it will outlast other writer's content.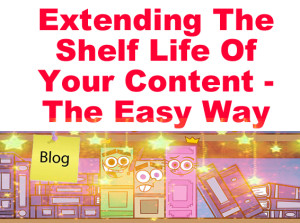 Extending the shelf life of your content the easy way: 
Content Strategy #1

 
The first step is to search for archives as this can help you to find material that could be helpful in extending the shelf life of your content.
Content Strategy #2

 
Evaluate your old posts and you may find a new idea emerging from it. A new little idea can be the big thing for the future. You can even combine different set of ideas to churn out a much bigger idea that has larger audiences and can sustain interest for longer period of time.
Content Strategy #3
Spend more time at networking events and keep abreast of the latest trends. There is a social media site called Meetup.com that is a great place to network. Put in your interest and zip code and find business networking groups near you. 
Content Strategy #4
Social media updates can be converted into bigger stories that will last in the public interest for long time. There are interesting tweets that can be explored and can act as a strong base for your next writing. Just check your tweet stream or Facebook page updates and timelines for better results. For more information check out the article, "Has your social media gone stale"?
Content Strategy #5  

 
You can spread the same message in different formats but in an interesting manner. The same piece of information can be converted into an audio form or video form.
Content Strategy #6 
Turn your PowerPoint presentations into a slide share (go to slideshare.net). Just give the readers a taste and then they have to go to your website to see more. It can be used to showcase the main headlines of your writing or author notes. Give value to your audience and readers.
Content Strategy #7
Speeches can be converted into a useful and meaningful content. 
Content Strategy #8

 
In the end, the main key to keeping your content sustained is to always provide rich and unique content. Make your blog or content so informative that the users don't have to move to another website for the information that he or she are searching for.
If you are planning to be an effective content writer and want to increase the time period your content can be sustained, consult SEO India agency that specializes in sustaining your content.
If you have had any strategies that have worked for you comment below and share with our readers.
About Our Guest Raj Kumar Mishra: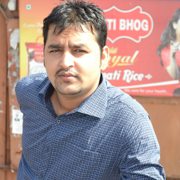 Raj Kumar Mishra has more than five years of experience as Online Media and Marketing Consultant, which allows him to enable companies to enhance and meet their Digital marketing goals. He has spent the most recent four years of his career focusing building Strong terms of Digital Marketing for his clients. In addition to his strengths on Building Brands and Serving Online Marketing strategy for his clients. He is a passionate technology and digital media Writer at Seo India Agency.
Connect with Raj on Google+.
Share and Enjoy:
2 Comments