4 Local SEO Musts For Small Businesses
Have You Ever Thought How Your Local Business Can Benefit From Local SEO?
Do you need more traffic to your site and more customers? Local SEO is a must for local business traffic! This is how to reach local customers and get traffic to your site. In this post we are going to show you 4 local SEO musts needed to generate traffic to your local business. Getting more traffic to your website is something you shouldn't pass up. You shouldn't have to feel being taken advantage of by your designer and local SEO company. Having a basic understanding of what you actually need is critical.  Local SEO means strategies to target your name, site and business to make it visible to people who are interested in your business-those that are physically near it. Look over this checklist and make sure you are not missing out!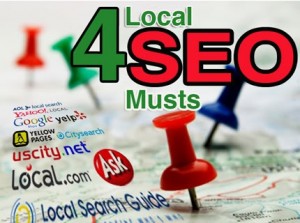 1. Is Your Online Presence And Brand Appealing?
Are you still advertising your business like it's 1980? Make sure your brand is up-to-date.
What does your logo say about your company? An effective logo can make a good impression, attract new customers, and stand out from your competitors. If you have a generic logo, you will NOT stand out from your competition, you need to update!
Is your website designed effectively? The first time someone goes to your site they will decide instantly whether or not to explore it. Make sure it is easy to navigate as an effective site will also capture leads.
Are you using videos to brand your local business? If not you are missing out on search visibility, ranking, adding value, and traffic.
2. On Page SEO Basics – Can Search Engines Find You?
Use

on page SEO

to make sure your website is as search engine friendly as you can get. If it is not optimized, chances are it wont be indexed in the search engines.
Page coding is the HTML tags on your site. They need to be optimized: title tags, meta tags, alt tags, xml sitemap, and robots.txt instructions, etc. Tailor tags for your niche so people can find your local business. For example, "Woodbury Dentist" or "Plumber in Oakdale, Minnesota".
Does your website have a blog? Set up a blog on your site (www.your site.com/blog). Page content is king and is what search engines look for. The content of a page is what makes it worthy of a search result position. Blogs will create your website traffic from search engines.
Make sure your address is on your website. You should have it on every page: on the bottom footer, on your contact page, or the about page. This reinforces your location so search engines can list you by your location.
Click On The Video Below To See Why Your Local Business Needs Local SEO:
3. Off Page SEO Factors – What Is Linking To Your Site? 
After you site is optimized the next step is

off page SEO

to let the search engines know that you exist. Submit your site to the three major search engines Google, Yahoo and Bing.
Is your business listed in local online directories? Prospects are moving away from using yellow pages and instead are using their computer and cell phone to find a local business. Do research for the region you are focused on and find the most popular portals for that region. Submit your website to major portals such as Yelp, CitySearch, Foursquare, YP, Dmoz, Angies List, Dex Knows, Insider Pages, Yellowbot, and Merchant Circle.
Is your business utilizing Social Media? Social Media increases traffic to your site, brings brand awareness, and adds backlinks to your site.
Get more backlinks. Google looks at the quality of backlinks to your site from other related websites on the Internet. Each link is viewed as a vote of confidence. Make sure to get local links from all the local associations and clubs you belong to (Chamber of Commerce, networking groups, E.G, trade associations, etc).
4. Is Your Site Growing? – Don't Abandon It
Is your site updated on a regular basis? Google looks at how often you add and update new content. Add new blog entries and update old ones to refresh their content.
Encourage satisfied customers to leave reviews for you on directories and give video testimonials.
Don't try to do SEO all in on day. When you do this, you will appear like a red flag spammer to Google and search engines. Off page SEO should be done steadily over time and is a constant ongoing project – it should never stop improving.
It is important to note that there is no SEO Company that can guarantee top number one rankings. Stay away from companies that guarantee this! What they can do is develop strategies that will effectively drive more traffic to your site. Keep in mind that ranking isn't instant on Google. It may take a couple of weeks or months for any results to show.
Local SEO Is A Must In The Marketing Mix For A Local Business.
Chances are that prospects are out there are searching for your business right now. Are they going to find you or your competitor?  You need to outrank you competition if you want to win. Off page optimization must be a continuous process because if you do not do it, your competitors will. It should be diverse and focused on various methods of link building.
Utilizing local SEO and coding can make a huge difference in the bottom line for a small business. Do you have any tips to personally add to this checklist of: 4 local SEO musts for small businesses? If so, please comment below.
Share and Enjoy:
Posted on January 27, 2012
in Local Marketing, Search Engine Optimization
1 Comment
One comment