Why Are Local Online Business Directories A Must For All Businesses?
Do you want to get your business maximum exposure on a limited budget?
Where would that be, you might ask? Online of course! In this article we discuss the benefits of using local online business directories and what they can do for your business. Lets' face it, either your business can be found online or it can't.  The famous 'Yellow Pages' is a paper local directory where important business information and ads have been placed for years. Its present function is now more likely to be used for a toddler's booster chair. Rarely is it used anymore as a source when people are searching for a product or service. (What a waste of money to advertise there!) To stay in business in today's competitive market, you must maintain a minimum of marketing activities. Being listed online is not a choice, but a minimum starting point for all serious business owners!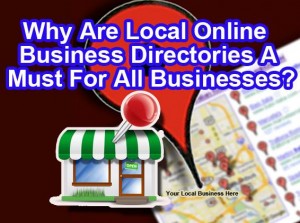 What Is A Local Online Business Directory?
Remember when information was accessed only with the help of a hard copy manually? One would have to go through page by page to get the information that he would be seeking for. With the invention of the Internet and consequently the digitization of these directories, listings have been made very easy to access. Just type in what and where and the business you are seeking appears.
4 Purposes Of Online Business Directories:
Purpose # 1

 - Less Paper Work
Was it possible to update a paper directory? No way! People needed to wait until the next  directory was printed. Now when there are updates needed in the data, just a few seconds for corrections are needed for an update. There are so many pages in a paper directory that it is too heavy to carry around and hard to even find a place to store it.
Purpose # 2

 - More Online Usage
Where do most consumers immediately prefer to search for a business?  Online of course!  Especially in countries like the US, a business needs to mandatorily have their business be listed in a business directory because more than 70 percent of people search on the Internet for a product or service. If you need a dentist for example and you live in Woodbury, MN,  you would go to Google and type, "Dentist in Woodbury, MN". You would then see a choice of dentists that would be listed. If your were a dentist in that area, you would want your business to be listed. Ask your yourself when was the last time you searched for something with the yellow pages? Chances are it was a long time ago!
Purpose # 3

 - Exposure
Are you placing new advertisements in paper directories? With online advertising in directories, just place it once and if nothing changes, you're done. What if there is an error? If there is an error online, it is very simple to change. Your change can be immediate, no need to wait until next year's directory comes out. There is also no monthly advertising fee. The directory site places your keywords that will make your business information search engine optimized. The better your search engine rankings, the better your business is exposed and the better chance your business has to grow.
Purpose # 4 

-

 

Cost
Have you checked the price a paper 'Yellow Pages' business listing plus the advertising in it? It is now a monthly out of sight expense! The cost of an online listing, plus advertising and having a professional do it all for you, is a fraction of the cost of advertising in the paper 'Yellow Pages'. That's right, a fraction of the cost!  Plus it is a one- time fee, unlike the monthly fees of the paper Yellow Pages.
Why Do You Need Your Business Listed In The Online Business Directories (benefits)?
• Exposure - It's the ideal vehicle for your business to be found and connected with searchers who are actively searching for your product or service.
 • Competition - It gives your business a chance to step ahead of your competitors. Many of the directories such as Google+ Local, place your business in a competitive order. How? Stay tuned for another article explaining this soon.
• Less Errors - They can be corrected immediately.
• Categorizes Your Business - It places your business in the correct niche.
Should You Place Your Listings Yourself?
It is possible, but not recommended.  It is best to have a professional do it for you. Here are 3 reasons why you should hire a professional:
Outsource Reason #1 

- Consistent 
Even if you had endless time, the biggest mistakes people make are not being consistent with their listings due to not having a master list to copy.  They may list their address as Ave. and in the next directory list it as Avenue. This will make it appear like you have 2 locations or 2 different businesses, which will weaken your competitive placement in the listing.
Outsource Reason #2 

– Abundant Amount
If you only list in a few directories you are missing a huge opportunity to get found online by searchers.  There are way too many directories to be able to hit them all unless you do it consistently. Here are the top 50 local directories: Google, Bing, Yahoo, Yelp, Merchant  Circle, LinkedIn, YellowPages.com, White pages, Super media, Yellowbook, City Search, Mapquest, Biznik, Local.com, Foursquare, ThinkLocal, CitySlick,Us Yellow Pages, My/city, Dex, BizJournala.com, teleAtlas, Justclicklocal, Discover Our Town, Metrobot, Best Dealas on, twibs, LocalEze,Kudzu, CityVoter, Manta, Zipweb, MathPoint, UsCity.net, Local Site submit, InfoUSA, Axciom, Infignos, Yellowassistance, ChoiceVendor.com, My huckleberry, Genieknows, MojoPages, Brownbook, Magic Yellow, CitySquares, TeleAtlas, Navteq GPS,and Judysbook. This list is just the tip of the iceberg as there are more than 200+ and growing out there. If you only list in a few directories you are missing a huge opportunity to get found online by searchers.
Outsource Reason #3

 – Time
It requires massive amounts of your time to find, enter and edit all of these directories. Professionals have a system, this is what they specialize.
Is Your business Listed In The Local Online Directories?
We would be happy to hear your experiences and comments about local online directories. Comment below.
Share and Enjoy:
Posted on November 5, 2012
in Local Marketing
Leave a comment