Facebook Lists: Why And How
Are you irritated by that one friend that posts 20+ times in a day?
Do you rarely ever see certain posts from friends in your news feed? In this post we will explain how to eliminate seeing posts from irritating friends that post 20+ times a day and how to see more posts from certain favorite Facebook friends. We will discuss what a Facebook list is, why you want to have one, and how to use it.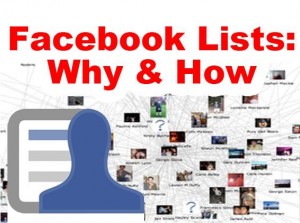 What Is A Facebook List?
A Facebook list is a way to personally organize posts certain friends on Facebook into a personalized newspaper. By having friends organized into lists, you control your personal news. You see and send content, pictures, or videos in your Facebook stream based on who you want to see or hear from. Organize your friends by interests, how you know them in your life, or who you want to keep track of.
Why You Need To Have A Facebook List? Click On The Video Below.
What Is A Smart List?
Did you know that Facebook has an automated friends list? Click on home and then look at the left margin and you will see a list under the category called, "Friends". The top four on this list is called the "Smart List". The categories for the smart list include: close friends, acquaintances, family, restricted, city, and school.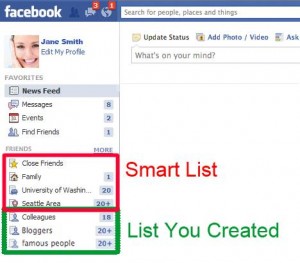 Smart lists are based on the profile information you provided and where you live. It automatically places friends on those lists from the information you gave on your profile such as: work places, educational intuitions, and places you have lived.
How Can You Manually Add Friends To Your Smart List?
Select the list you want to add more friends to. On the right side, Facebook creates a lists suggestion of friends for you. Click on to "add to" your list. Above the list suggestion is a box that says, "+Add friends to this list". Enter the names or emails of friends you wish to add to this list in the box provided. If you add people into your "Family List" they will be notified to confirm this.  Other lists don't require confirmation notifications. In fact no one will know which list you put them under except the family one.
Here Are A Few Examples Of Possible Lists:
• Famous
• Not Sure
• Bloggers
• Great Photos
• Ex-Coworkers
• Posts Too Much
• Hot Singles
• Make Me Smile
• Dump After Reaching 5,000
• Religious
How Can You Manage Your Lists?
After you have added people to your lists you created, you can manage the different kinds of notifications that you can see from your lists. Click on the particular list; go to the top right side where you will find a button that says "Manage List".  Click on the small triangle next to it and a list should pop up. It will give you the selection of rename list, edit list, choose update types, and delete list.
If you click on Choose Update Types, up pops the following list with checkmarks in front of the following selections: status updates, photos, games, comments and likes, music and videos, and other activity. Just click on the checkmark of the selection you wish to eliminate.  It will remove the checkmark and you will no longer see that category from the friends in that list. For instance I don't like to see games so I have unchecked games on each of my lists.
How Can You Organize Facebook Friends On Others Lists?
On the left side where it says, "Friends" there is a button to the right of it that when you hover over it that says, "More" in blue.  Click on "More" and a page will pop up. On the top of the new page, click on "+ Create List".  Another box will pop up, type in the name of the list (category) you wish to create (high school, sports, church, co-workers, etc.) and the names of people you want to go on that list, then click on create that is in blue.
Time Management
No longer will you be swimming like a fish lost in a sea of Facebook posts and chaos. Once you get your lists organized you will save time. Just click on a particular list and find posts that you wish to hear from.
Your Turn …
If you find using Facebook lists has improved your experiences on Facebook in same manner, share with us below. What other creative lists categories have you made?
Share and Enjoy:
Posted on October 6, 2012
in Social Media Marketing
Leave a comment