Google Places Got Ditched!
Have You Heard The Buzz About "Google+ Local"?
Google rolled out another update to its local platform, ditching "Google Places" and replacing it with "Google+ Local". It's a very powerful move combining social, google maps, and local search. The new local listing tabs for local businesses can be found underneath the "Circles button" in the social site of Google+. Click on the icon that says, "Local" to view more.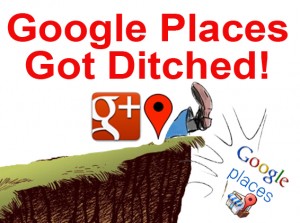 Why Did They Replace It And Change It?
Why did they integrated it into the Google+ social site? Why couldn't they just leave Google Places alone instead of changing it? Is this Google's way finding another reason to extend our time on Google+? Are they flaunting their strengths by integrating our online and offline activities? Changes aren't always welcome and we need to know all the "whys" to accept change!
Whys:
• Extends Your Google Time - If everyone is to rate and give reviews on businesses, it would make it another reason to stay in Google+ and hang out.
• Facebook competition - This feature will one-up them over Facebook.
• Integration - While Google Plus doesn't directly compete with Facebook for personal users, its main focus is instead on business integration.
• Improves Ratings - "Google+ Local" is making it easier to both share and see opinions and reviews with your circle of friends.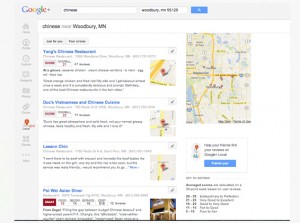 "Google+ Local" features Zagat scores and recommendations from your friends in your circles on Google+. After you click on the icon, you can put things in the search bar above. You can browse things in your area or look for something specific. When you find something that strikes your fancy, click on that listing, for example: a Chinese restaurant. It will take you to their Google+ page that features photos, directions, address, summaries, reviews, hours and more.
What Are The New Features?
• Reviews From Your Friends - It will feature reviews and recommendations from friends in your circles in the search results. When you are searching for a Chinese restaurant, it might include one of your friends' reviews nearby. The opinions of friends in your circles are now there when they review a business place. This is great way to tell your friends that you loved the food, but hated the services, or that the sesame chicken was out of this world. It is also great if you had a bad experience too, like if the food was bad, overpriced, or gave you food poisoning, etc. Your photos and reviews will help others find great places. You can help out your friends too by reviewing places. So when your friends are checking out a place they can see what you have to say.
• New Rating System - The 5 star review is now gone. Google bought out Zagat last September for $151 million and is now putting it into use. It is a 30-point scoring system that Zagat developed. Restaurants for example, will be scored in three areas; food, décor, and service. This makes the reviews more specific than stars. After all what does 2 stars really mean? It could have been great food, but bad service. This could save you frustration and have you decide to get take out instead of going inside if it was more specific. If your business is not a restaurant, but is a local business, it will have different options to pick from when they review it. How will this review be seen? Time will tell, as there is no information on the reviews of other types of businesses yet.
Still Confused On How It Will Work?
Check out this video that Google made and see how this will fit all together:
What Happens To Your Old Reviews?
Your old reviews from "Google Places" will be transitioned over the "Google+ Local" page. They will show up anonymously as "A Google User". This is all new to everyone so names won't be specific just yet.  On both your reviews and competitors, there won't be a lot of specific names just yet. It will show up with a name only if the person validates their review and publishes it.
Whether your business in on Google+ or not, people are going to talk about it. Jump on board and start to engage with your customers. Take advantage of all the other features, circles, hangout, SEO benefits, etc. The next trend could be them combining the Google+ business page with your local page.
Now, It's Your Turn…
Have you noticed anything thing else that wasn't said about the new "Google+ Local" page? Do you think the new ratings will have any influence on Google rankings? Do you think Google will merge your Google+ business page with your local page in the future?
Share and Enjoy:
Posted on May 31, 2012
in Social Media Marketing
Leave a comment