How to Use Pinterest For Rapid Promotion Of Your Business Blog
Are you looking for new ways to promote your blog?
Are you too busy running your business that you don't have the chance to promote it? Social media is rapidly growing and the people who have business blogs need to make sure that they make the time to adapt to the largest method of promoting their business to the masses.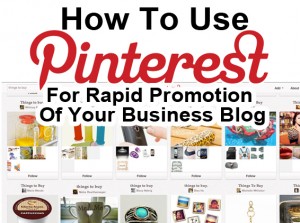 Pinterest is the latest and most authoritative method in which you can help make your blog famous and people all over the globe will get to know more about your business. There are several ways to use Pinterest to help promote your blog such as:
• Promotional products
• Sharing photos
• Sharing videos
• Sharing blog posts
• Informational methods
• Interactive with friends
There are many different kinds of business blogs out there and the majority of them do not have any traffic going to it. Is your blog one of them? If customers can't find your website, it impossible for them to buy your services or products. Your potential customers will go to your competitor since your business can't be found. When people are searching, they need to find your business or you will go out of business.
Whether your business has products or services it needs to be on Pinterest. Pinterest is easy to use and in a matter of hours you can gather new followers and even promote it on other social networks. Facebook is connected to Pinterest and you can also link your Twitter account. The more exposure you give your business, the more people will link to your photos or videos.
Does Your Business Sell Products?
One of the great aspects of Pinterest is the ability to take cool photos  of your products and share them with other users. This is great for those who operate an Ecommerce site.  Pinterest will appeal to your prospective clients by visually showing them what you have to offer. As you take pictures of your products show different angels and close-up shots of them. Think of jewelry, purses, sunglasses, shoes, or gift baskets, etc. You could display all these pictures on the same board. Underneath each picture,  attach a link back to your website with the price of the item. You can add hashtags (the # symbol used to mark keywords in tweets on Twitter) for people searching on Pinterest so they can find your products.
Make A Theme For Each Board
You can make categories of items that you sell and display by making a theme board. For example, make a board called blue opal earrings and only show blue opal earrings. Another board could be pearl earrings. You could also make separate boards for kids, specific customers, sale items, holiday items, etc. Each board can be a category of your products. This will create an online catalog and you can target gift ideas to certain groups. Many people may want to visit a website that has all the details in one place. This makes it easy for them to make the complete reference.
Click On The Video Below To See 6 Ways To Use Pinterest Can Be Used To Brand Your Small Business: 


Does Your Business Just Have Services?
Highlight all your services with pictures and videos that can pinned on Pinterest.  Pinterest is not just for products, it is also a useful marketing tool for services. Just list all your services and descriptions on your website and then create a visual board of your services. If you are a plumber, pin on the job photos. If you are a graphic designer, pin samples of your designs. If you are an interior designer, show before and after photos.  You can even show videos of what you do. Showing your services visually makes them more appealing. You can also pin pictures from your blogs on Pinterest to attract readers for your articles. Another aspect is the ability to list down all the services that you are offering in an easy to follow visual manner. When people click on the links under the pictures and videos they will advance onto your website where they can find out all you offer. If your business blog has services on it without pictures, readers will end up bored and go on to search for other blogs that are more elaborate and attract readers. Customers don't want to look at just type!  Add pictures and videos which are pinned to Pinterest and keep their interest. It will give it a link to drive traffic back to your website.
Do You Want To Drive More Traffic To Your Website?
Of course you do! The more traffic that goes to your website, the more  chances you have to make more sales.  Right?  When you have a business blog, you to need make the visitors feel welcome. This social media site can help display your products or services to make them more appealing and catchy to the eye. With each picture or video that you pin onto a board, you are increasing your SEO strategy while it drives traffic back to your website. Write descriptions under each photo or video, use targeted keywords, hash tags, and of course a link to click back to your website. This also creates more traffic when you have a large following through online channels. You can also submit your pin(s) to pinfaves.com  (a social voting platform similar to Digg), but for Pinterest pins.  Also, check out Repinly.com, a Pinterest directory and stats. This is a great technique to use to end up getting relevant results when you are trying to attract clients.
If you are thinking about promoting your business blog, you need to make the time to have your products, services, articles, and videos on Pinterest. This social media site will give your business the complete facelift that it deserves and the readers will enjoy every single minute of it. Make your business easy to find, easy to share, followable, and repinable – go viral!
Have you used Pinterest to promote your business blog and gotten good results? Feel free to share other tips you found that would be useful to others or recommendations that you think will be useful to other readers in the comment section below.
About Our Guest Blogger Kady Babs: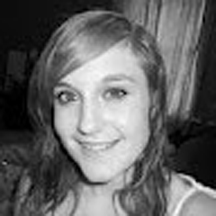 Kady Babs is a Certified Professional and freelance writer. At present attached with Test4Prep. This is Best Source for 117-202 Exam. You can try free demos of certifications with 100% Risk Free and Guaranteed. Babs has creative writing skills and helping people to get certified on first try.
Visit Kady's websites:  http://www.test4prep.com/  and http://www.117-202.com/
Connect with Kady on Facebook, Twitter, LinkedIn, and Pinterest.
Share and Enjoy: