Twitter Update 2016: New timeline & Algorithm

Are you ready for change with Twitter?
Twitter has changed its algorithms. Just when you get used to a social site there becomes a change. So what are the changes and new features for Twitter? In this article we will discuss the changes in Twitter 2016.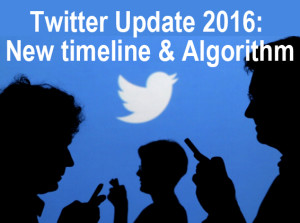 What Are The New Changes?
Twitter Change #1 -Timeline
Twitter will feature your tweets based on relevancy instead of chronology on the top of your timeline. The timeline will feature what is relevant versus what's recent. Facebook news feed already does this by showing posting out of order and importance on what is hot by the likes and share.

Twitter Change #2 –Twitter Moments
CEO Jack Dorsey also introduced Twitter Moments. This feature allows you to have longer direct messages. It will be able to display inline Periscope videos. It will also show what the most people tweets
to everyone who visits Twitter on their smart phone. He also might get rid of the 140-character limit, too.
The new changes are coming this Wednesday. For now the change is opt in only. What does this mean? You won't be able to see the new feature unless you activate it in your account settings. Then in a few weeks I am sure it will change as to signing up for this feature. Later after this new change has been out and more people are opting in it will then go public for everyone to try it out. Users will then still have an option to go back to the old settings.
Will This Be The End Of The Reverse-Chronological Timeline?
So far Twitter say this is not the end of it. This has been a signature feature. The new change will focus on what's relevant instead of what's recent.
What Will It Look Like?

Just like Facebook is showing what is more relevant or important by the likes and shares Twitter will do something similar and base it on the number of people you follow. You will see what is most important from people you follow similar to Facebook's news feed. I couldn't find a picture out there of a preview of it.
How To Adjust The Setting?
Log in to your account on Twitter.com and go to your
Account setting page. Then under content look for Timeline
and uncheck the box next to "Show me the best Tweets first". Then
it may ask you to reenter your password.
Back To You…
What do you think of the upcoming changes to Twitter? Do you feel this new change will make you use Twitter more? Was there anything that we didn't discuss that you would like to share? Feel free to comment below.
Posted on February 17, 2016
in Social Media Marketing
Leave a comment