4 SEO Strategies To Improve Ranking
Do you feel that search engine optimization is constantly changing and hard to keep up with?
This is true in the most part, but there are certain techniques that you can implement with the future in mind. More often than not, successful search engine optimization can be achieved successfully simply by implementing strategies and knowing what to expect next. Nevertheless, keeping up-to-date with changes is important to ensure that your search engine optimization efforts are working for your business.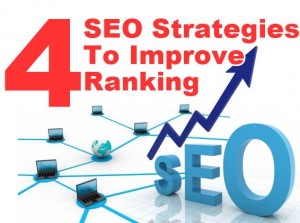 What Are The Latest Trends And Strategies Used In SEO To Improve Ranking
Strategy #1 – Backlinks
What is the most common trend in SEO? Backlinks that are from external websites. Backlinks can add value to your website as far as search engines are concerned. Links from relevant and popular sites are more beneficial for your website as anything less can potentially be picked up by search engines and become a negative.
How can you create backlinks? You can create backlinks to your website by posting guest posts on other sites, Web 2.0's, getting your business on social media sites, and gaining visibility/shares, blogging, and more.
Strategy #2 – Social Media
Do you have a Facebook Fanpage or a Google+ Business page? Did you know that social media optimization is a fast rising importance in the world of SEO? Social media sites have become massively popular amongst web users and see millions of visitors each day. When you have a businesses page on these social media sites you are potentially gaining visibility to millions of people.
Search engines will recognize how popular your page is and you can gain links when users share your page. You have the chance to capture the attention of potential customers an engage with them at the same time. Social media should be on your agenda for Internet marketing.
Strategy #3 – Guest Blogging
How can you gain links back to your site while offering useful information and looking like the expert in your field?
Guest blogging is a great way to get traffic to your site.
What do you blog about on other sites? When you guest blog on another site it should be relevant to your website, products, or services in order for the post and the link to be effective. Gradually introducing guest posts can be beneficial and considered more natural by search engines. Natural efforts for SEO are favored by search engines and will get you in their good books.
Strategy #4 – Content
Content is a big contender in SEO. Search engines like relevant and unique content. Content should be clear and to the point; too much is not an issue for search engines, but can be for Internet users who want to find what they are looking for quickly. Updating your content on a regular basis will be appreciated by search engines and by users. Users that intend to return on a regular basis will only do so if you give them a reason to. Good, fresh content is important; the majority of search engine optimization articles you read today will explain that content is king when it comes to it.
Ensuring your best efforts doesn't mean that you won't be hit by search engine updates. All you really need to do is follow the rules, keep up with the trends, and make sure your search engine optimization efforts are as naturally formed as you possibly can. Social media and guest blogging can help you achieve this so consider every aspect to ensure effective Internet marketing for your website. Doing so will ensure that you see the increase in traffic, visitors, and customers, which means you will soon see an increase in profits as well.
Your Turn…
If you have found other strategies that help improve your page rank, please share them with our audience. If you have also found something that the search engines will penalize your page and decrease your page rank for, please share that with our audience also.
About Our Guest Blogger Pat Johnson: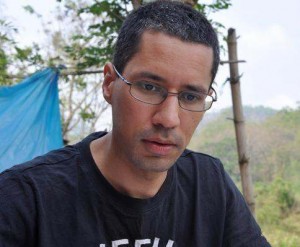 Pat Johnson is a freelance writer based in New York. Pat is an expert in Internet marketing and SEO. In his spare time; Pat enjoys classic computer games and swimming at the local pool with his niece.
Visit Pat's website: http://www.seo.org.uk
Connect with Pat on Facebook, Twitter, and Google+.
Share and Enjoy: