Book Review: Boost Your Google Ranking – New SEO Book Uses SEO Basics to Help Website Ranking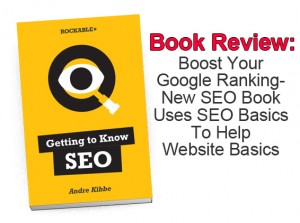 I just read Andre Kibbe's "Getting to Know SEO" book and I must say, if you need to boost your website ranking this book has a lot of great advice.
Kibbe begins by defining Search Engine Optimization (SEO) as the best practice for earning a high place in Google ranking and other search engines. He then covers SEO basics, such as the concept of link building. Finally, he delves into a world of SEO advanced and walks you through the mathematical processes you can use with Google analytics and Excel to optimize your keywords and overall SEO.
In one of his most important points, Kibbe addresses the world of "Search Traffic vs. Social Traffic" (p. 8).
Using Social Traffic, you must stay relevant by constantly updating your social media profiles (up to several times a day) by posting, according to Kibbe. But with "Search Traffic," a good search engine rank will remain on page one of Google, Yahoo, Ask, Bing, and other search engines' search results. That's IF Google's algorithm keeps identifying it as a quality page. This is a pretty good reason to take SEO seriously.
"Getting to Know SEO" covers eight important topics including: The Importance of Keywords, On-Page Optimization, and Understanding Competition.
One of the biggest things I learned for my business was the concept of building inbound – or backlinks. which are links that lead from other web pages to yours. According to Kibbe, all page one web sites have in common a number of backlinks to their pages: "The ranking of any page is primarily determined by the quantity and quality of backlinks." (p. 53) He really hits home the importance of backlinks and for that matter, the importance of each of the eight topics he covers.
Of course no powerful SEO book would leave the reader without teaching how to get backlinks to your web pages.
Guest posting and link networks are the most effective means to build inbound links, but there's one key tip Kibbe gives that pertains to gaining links from authority sites. (Yes, you have to buy the SEO book to find out what that key is . And no, I've never met Andre Kibbe and don't know who he is, col. I just heard about this book from colleague and WordPress expert, Sue Surdam of Artizon Digital.) Those inbound links hold the most weight in the Google ranking system.
Kibbe saves the "Competition" topic for last and advises SEO enthusiasts to keep your scope narrow: create a niche; segment the universe of prospects; utilize fewer rather than more keywords to attract a very specific audience.
He lays out a whole system that finds strong long-tail keywords, analyzes the keyword competition, shows you how to navigate Google AdWords' Keyword Tool and gives you a few good tricks of the trade for using the tool. He discusses how to determine whether your page will end on page 1 of Google using PageRank and Exact Match Domains in a sweet mathematical formula. It was amazing to learn that I could even predict "keyword potentials" in an Excel spreadsheet!
One central theme throughout the e-Book presented SEO as a fluid process.
Today's art of getting your website ranking high may change tomorrow. And you may experience failures in your SEO endeavors if your site gets de-indexed, or you lose Google ranking from page one. Kibbe offers suggestions on how to remedy potential problems and maintain quality content on your site. In the end, he offers links to SEO sites to keep on top of this very fluid subject. I was familiar with one of them – Search Engine Land – and follow them from my Facebook biz page.
All in all a great read for rookies and seasoned SEO pros alike. Lots of great tips and perspective give it a thumbs' up from In Touch Promotions! If you'd like to read this and more good books on SEO and related topics, I'd go to Rockable Press: http://rockablepress.com/our-products/.
About Our Guest Blogger Donna Saliter:
Donna Saliter is the principal at In Touch Promotions, an email, digital, and social media marketing firm. She started the business in 2010 after spending 10 years in the nonprofit sector and 10 years working as sales and marketing manager, and later COO, of a family business. Donna has a Masters of Business Administration in e-business. She is a recipient of the 2010 SBDC Achiever's Award and 2011 Constant Contact All Star Award.
Connnect with me on Google+, Facebook, Website, Twitter, LinkedIn, and Constant Contact business parter.
Share and Enjoy:
2 Comments