Can SEO Guarantee My Business Will Get Top Rankings In The Search Engine Results? 
Can First Page Rankings Be Guaranteed?
There is no guarantee that your site will appear at the top and stay there. Beware of companies that claim to give guarantee rankings with SEO and Google places; they are trying to scam you! There is no guarantee that your keywords will be in the top 10 ranking on all major search engines. If you run across a guarantee that claims this, it is time to start looking for another company!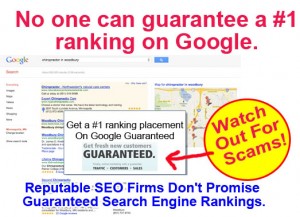 How Do Companies Get Away With Guarantees On SEO?
One way a company can get away with these fake promises is if they are using Google Adwords or Yahoo Search Marketing, which are pay-per-click. What this means is you bid on your website being listed at the top of the "Sponsored Matches". Then when a visitor clicks on your ad that links to your site, you have to pay for it. These SEO companies may target little keyword phrases that have hardly any search results for your site to compete against. This is an easy win the company but a big loss for you! It probably will not be keywords your target audience would even click on to find your site!
Why Can't You Control The Search Engines?
Marketing professionals, SEO gurus and companies do not own or control the search engines. The top search engines such as Google, Yahoo, and MSN keep their ranking algorithms closely guarded and they are constantly changing and evolving. The search engines are constantly evolving their ranking criteria to keep the SEO companies and marketers from using unethical methods. So, you can see just how impossible it would be to guarantee rankings and cheat the system.
Click On The Video Below To See Google Ranking Secrets: Can 
Companies Really Guarantee 1st Page Ranking On Google?
What Do Search Engines Look For To Give A Top Ranking?
Rankings on the search engines move similar to movement like a stock market. Some days you'll have a really high ranking and other days it will be much lower.
What the search engines do is give top rankings to websites that fit the best match for what is being searched. They don't give high rankings to the websites that are trying to cheat the system. The best ways to improve your website is with either "on page optimization" and "off page optimization." With "on page" SEO content is King. Other factors have to do with the construction of your web pages to make sure that they are seen by the search engines. Search engines need to provide the most up to date information, so they value fresh and unique content. If you constantly updating your website, it will have an advantage over competing sites that don't update as frequently. "Off page" SEO and backlinks to your site is what search engines also look for. This is where marketers, SEO gurus and companies that understand rankings put their efforts. The quality of the sites that link back to your website is just as important as the type of links.
What Can We Do If We Can't Guarantee A Top Ranking?
The St. Paul Marketing Team takes the time to use an analytical approach just like any other marketing project. We tailor it to your company's needs and budget.
The St. Paul Marketing Team can help your website rank higher across many search engines and directories. Our major services that help with rankings are "off page" SEO and link building that help you move you up in organic search results. We also offer video marketing, social media marketing, "on page" SEO, local marketing, article marketing, and more.
Back to you…
How do you think the search engines will keep evolving their ranking criteria over the next year?
Share and Enjoy:
Posted on December 10, 2011
in Search Engine Optimization
Leave a comment