SEO: 5 Questions You May Not Think To Ask
What is the most important factor to determine the success of a SEO campaign?
There are many factors in determining the success of a SEO campaign, but the most important factor is before starting the project to have an open conversation between the client and the SEO Solutions Company or specialist. This not only clears any doubts, but it also helps in the designing of better and more efficient solutions for the SEO project. Here is a list of five questions for both the client and the specialist to ask each other. You may not have thought of asking, but will be much better in every aspect if you ask.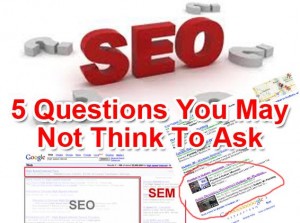 5 Questions To Ask The SEO client:
Question 1: What is the niche or the target audience for the site?
Reason:  With the niche or the target audience known it becomes easier to develop the content. The unique interests, search patterns, and preferences of each niche audience helps to develop a more focused content that can be used more effectively for SEO purpose. Knowing the market of the target audience, helps in setting up more specific marketing goals.
Also understand what their brand message is and how they want their presence known on the Internet. This will also help you design marketing collaterals and other plans in a much more focused way.
Question 2: Which target market and markets do they intend to explore in terms of location or geography?
Reason: If a company is looking for global exposure their case will be different from a company looking for a specific country or location for business expansion. Asking about the preferred market or location will help determine specific SEO that will drive relevant traffic to the website.
Also asking about the preferred local search engine will help you do more focused SEO.
Question 3: Who are their top competitors?
Reason: Asking about their competitors and going through their competitors websites will help you understand a few factors necessary for better SEO. It will help you to identify the unique aspects of the competitors that draw traffic and better rankings. It will also help you identify their competitor's weakness and client's strength. This can be used to determine the right content. Look for certain features on their competitors sites that the clients would like to also use in their site and find the competitors flaws that you can use as a competitive advantage.
Question 4: What is the final goal of the site?
Reason: Knowing the final objective of the website determines which methods or ways to boost traffic and achieve the right results. This will also determine the correct performance indicators to explain the success or failure of the SEO campaign.
Question 5: Have there been previous SEO attempts?
Reason: This question will determine where you will need to start. This includes information regarding previous keywords used and to new keywords to target.  Knowing the webmaster control functions of the webpage will give you the keys to optimizing the site.
5 Questions To Ask The SEO Specialist:
Question 1: Can you rank my site to rank number 1 quickly?
If they answer "YES" – avoid this company!  SEO is a long drawn out and tedious process that needs to be given time for you to rank higher. Saying yes means they are either bluffing or using Black-hat SEO practices (using non approved practices which can get your site banned). Check out this related article, "Can SEO Gaurantee My Business Will GEt Top Rankings In The Search Engine Results".
Question 2: Can you show some testimonials?
Testimonials from precious clients will help you understand a company's or specialist's potential. In case there is no testimonials available, try to get a client list to determine some feedback about them.
Question 3: Does SEO really work these days?
This will give you insights about SEO and how they tackle the new algorithms of search engines. They might show you some samples to prove their point.
Question 4: Should you use SEO software?
Good SEO companies will help you understand why it is useless to use any type of SEO software.
Question 5: Have any of your sites been blacklisted?
The answer will tell if the company is honest with its clients and uses only white-hat approved SEO trade practices.
Back To You:
Whether you are the client or the SEO specialist, it is always best to communicate. The more you ask questions and clear away the confusions, the better it will be for making the picture clear. Don't feel shy, go ahead and ask the question that is on your mind that will always yield better results.
If you have had good or bad experiences due to communications prior to starting an SEO project, please share these experiences with us below.
About Our Guest Blogger Diana Maria: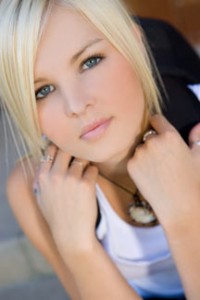 Diana is a writer/blogger by profession. She loves writing, traveling, and reading books. She contributes for World Financial Group.

Visit Diana's website: 
http://worldfinancialgroupreviewsblog.com/
Connect with Diana on Facebook, Twitter, and business Twitter World Financial Group
Share and Enjoy: