SEO: How To Get Your Business From Invisible To Rock Star
Have You Woken Up To The Importance Of SEO?
SEO, when combined with worthy content writing and complemented with capable marketing, can yield a successful business venture. Today, one of the simplest ways to judge the credibility of a company is by typing its name in the Google search bar and viewing the page results. If someone is searching for your business are they going to find you or your competitors?  Does your site show up on page one or are you invisible? Google is a robot and has numerous strategies on what your page is all about. Find out what people actually enter into Google when they are searching for your product or services.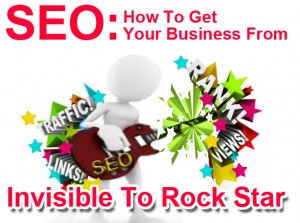 Dominating Your Niche Doesn't Happen Overnight!
When people search, they are searching with keywords that interest them, not the name of your site. You need traffic keywords in your website and blog that will show up in the search engines so prospects can find you.
When wanting to commit to SEO, ensure that you do it the correctly. If you are not confident, get an SEO advisor (or company) that you trust. Also, go for referrals and make sure you have only ethical SEO principles added to your campaign.
SEO can be an expensive and extensive task. But when done correctly, SEO has tremendous delivery potential. If you intend to dominate your niche over your competitors for your target market, you should consider that it is not an overnight job. In fact if you do too much and too soon, you might even get your site banned.
Getting your business from invisible to the rock star of your niche is an ongoing process. Whether this may be your first encounter with SEO or you have been doing it for awhile, it takes time and effort. It is a long term strategy for online marketing and you are unlikely to see favorable outcomes quickly.
Is SEO Alone Enough To Grow Your Business?
No matter how small your effort to make an online presence, you have to start somewhere to create your niche in the World Wide Web. You should be getting marketing from a range of sources. SEO alone may not be enough to drive you to success. Indulge into other areas which can help your business grow. Think of other marketing activities that can give boost your SEO.
What Can Make Your Business Go From Invisible To Being The Rock Star Of Your Niche?
• Social Media - Popular social media sites, like Facebook, Google+, Pinterest, Linkedin, and Twitter have potential to deliver encouraging results. As these social sites  engage more and more people each passing day, they can be executed to complement SEO operations and take them to an elevated level. Google favors companies who engage more with their audience using social media as they can be the right platform when executed correctly.
• Blogging – Blogging helps drive traffic to your site and amplifies your brand. You want to answer solutions to clients so well that they will want to come back again for more information. When people search, they are searching for answers. The keywords in your articles will drive people to your site. Remember they won't Google your company name!
• Guest Blogging - Guest blogging on other sites is a great way to get high quality links back to your site. It can expose new readerships to you and establish you as an authority of your niche.
• Interactive Branding Email Headers – With the high amount of Emails traveling to inboxes daily, make your business stand out with an attractive header. Interactive links will increase more traffic to your site, fan page, blog posts and other marketing channels you have established.
Click On The Video Below To See The 12 Reasons Why You Need SEO For Your Business:

What Is The Best SEO For Today's World Wide Web?
The World Wide Web has constant upgrades and is ever changing. SEO is not restricted to keyword research. It is aimed at enhancing websites and generating traffic as one of the ultimate goals. On-page optimization, like title tags and copy optimization, is helpful. However, the technical SEO is the more critical part (like code). It involves elements on the page that a user can not see without looking directly at the source code.  This includes elements such as: site speed, ip detection/redirection, 301 and 302 redirects, http headers, crawler access, JavaScript, and flash. If you can master technical SEO, winning the battle is easier. Knowing both the on-page and off-page SEO can make you a sharp SEO practitioner.
Your web designer or web developer might not know much about SEO or how to rank your site well in search engines. If they have expertise in SEO, ask them to take care of all these things needed for higher rankings. If they have no clue, get an SEO advisor (or company) that is competent.
Do You Know How To Use Your SEO Tools?
You may find a lot of tools to deliver positive outcomes. You need to know how to use them correctly for best results. Link building is a practical solution in SEO. There are traditional link building ways that have a higher capacity than internal link optimization. Using directories and social media, both have the potential to give you results. You need links to use in both areas for effective results. Good site usability and worthy content (both creation and marketing) are other important considerations.
SEO has matured with time and you may need to catch up with the required skills to make your mark in the industry. The extent of expertise required may be subjective to your special needs and specific requirements. Concentrate on your target market and goals to travel smoothly in the roller-coaster ride.
Attracting traffic is all about thorough keyword research plus posting fresh interesting content answering solutions and optimizing your SEO.
What was your worst SEO mistake you made? What are some SEO tips that gave you great results?
About Our Guest Blogger Diana Maria: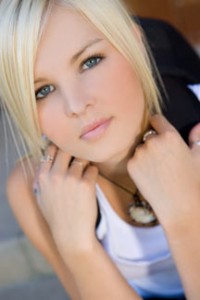 Diana Maria is a blogger by profession. She loves writing on technology, health, and parenting. Beside this she is fond of games and gadgets. She also likes reading various articles on cellphonebeat.com & gizmowatch.com.
Visit Diana's websites: Gizmo Watch and Cellphonebeat.
Connect with her on Facebook, and Twitter.  
Share and Enjoy: