What Is Off Page Optimization/ SEO?
How Do You Get External Links Back To Your Website? (Backlinks)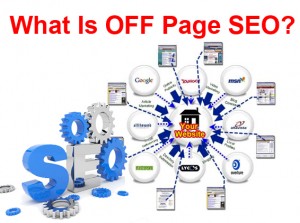 Off page optimization refers to factors that have an effect on your website or webpage listing in natural search results. (This is also referred to as link optimization.) For instance, if your website was a scooter the best fuel in the world won't get it moving any faster. If your website structure was more like a sports car and had no fuel at all, your site won't go anywhere either. Think of off page optimization as the fuel or gas. It is the work that you undertake outside of your website to improve your SEO rankings and visibility for your customer. It is about getting external links back to each URL on your website with the anchor text equal to the phrase that page is optimized for. Off page optimization is more focused on links directing back to your website. For a page to be listed up high in the search engines listings you need more links than your competitors to be seen as an "authority site", as well as having high quality links.
Click on the video below to understand SEO in St. Paul further and what you need to do to get more traffic to your website.
Here Is A Checklist Of Things To do For Off Page Optimization To Get Those Needed Links:
- Social bookmarking submission
- Directory submission
- Blog posting
- Article submission
- Press release submission
- Forum posting
- Guest blogging
- Blog commenting
- Review posting
- Rss Feed submission
- Css submission
- Video submission
- Profile creation
- Social media optimization
- Link Exchange
Off page optimization must be a continuous process because if you do not do it, your competitors will. It should be diverse and focused on various methods of link building.
Share and Enjoy:
Posted on July 10, 2011
in Search Engine Optimization
Leave a comment