What Is On Page Optimization?
Why Does Your Website Need On Page SEO (search engine optimization)?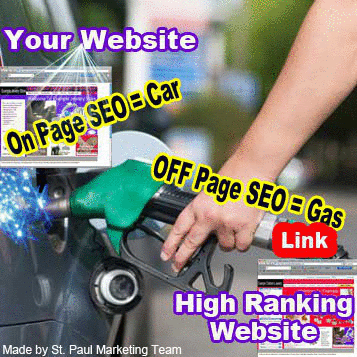 The on page optimization relates to the elements on the web page and the importance given to the words on the page. It is about using key phrases in correct places on the page you are trying to optimize. After having a key phrase (anchor text) that you are targeting you must pair it with the URL and use the phrase in several areas on your website. Search engines want to know first and foremost what a web page is about and look for these html tags and various word elements. When your page is optimized it makes it more user friendly and easier to navigate. Picture this example of on page optimization. Think of a car as the structure (on page optimization), and the fuel as the inbound links (off page optimization). The off page optimization is the fuel because the more links you have the higher the page rank. You could have the best car in the world (on page optimization), but without gas (off page optimization)your car will not go anywhere. Likewise, you can have the best quality gas (off page optimization) in the world but without a car (on page optimization) to put it in you won't go anywhere. Hence, both on and off optimization are needed.  
Click on the video below to understand SEO in St. Paul further and what you need to target when you optimize your website.
For your website to achieve maximum exposure and results it needs to be search engine optimized.
Here Is A Checklist Of Things To Do For On Page Optimization:
- URL name of your site
- Important HTML Tags
- Keyword Research and Analysis
- Page Specific Meta Tag Creation
- Title Tag (Page Title Optimization)
- Meta tag optimization
- Alt Tag Optimization
- Anchor Text Optimization
- Content Placement
- Keyword Density
- Implementation of 301 Permanent Redirect
- Implementation of Google Analytics
- Search Engine Verification from Google, Yahoo and MSN
- Submission of XML Sitemap
- Creation of Proper Link Structure
- Optimization of Search Engine Essential Files (robots.txt,urllist.txt, sitemap.xml)
- Use an image on the page that has a file name key-phrase.jpg
Share and Enjoy:
Posted on July 18, 2011
in Search Engine Optimization
Leave a comment