What Is The Most Beneficial SEO?
On Page Or Off Page SEO?
What gets you to move faster – the car or the gas? Just as both are equally important in operating a car, both are needed for search engine optimization. On page optimization can make your website user friendly. Whereas off page optimization generates backlinks, increases page rank, and search engine results page. As you can see both on page and off page SEO are important to help your website "get found" or "noticed". Both will help in improving the rank of the site 50-50%. One without the other can't improve the rank of the site. Both are needed.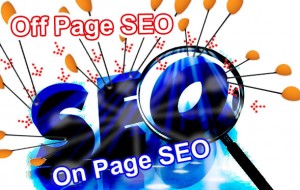 What Are The Benefits On Page And Off Page?
• Gain authority.
• Be Found
• Serves as a beacon or hub page to rank other pages 
• Makes is more user friendly 
• Targets traffic
Click On The video Below To See The 12 Reasons Why You Need SEO For Your Business:
Which Is Done First? On Page Or Off Page SEO?
Start with your website first just like you would with a building in the physical world. The rule of thumb is to do "inside" cleanup first before inviting people from "outside" to your website.  If you think about it, the words on page explain quite a bit. On page SEO is the "inside work" you do. When you do this all your off page work will be more effective. This will help you business website rank above your competitors in the search engine results.
Why Do You Need On Page SEO?
You need on page SEO to promote your website, clean up your HTML codes, fix broken links, and make your site architecture easier to crawl by search engines, keyword optimization of your content and all the essential page elements.
Why Do You Need Off Page SEO?
Off page SEO is attracting links to your website by various means and this varies depending on your competition and niche. Backlinks needed are from article writing, video submission, social media optimization, blogging, etc.
Is Off Page SEO Or On Page SEO More Beneficial?
Neither! Both are needed for search engine optimization.  Either one alone is useless, but working together they get the job done! Together they will do the magic needed for your website to gain page rank that is needed to rise to the top!
Share and Enjoy:
Posted on August 17, 2011
in Search Engine Optimization
Leave a comment