How Much Should Video Marketing Cost?
Does Video Marketing Cost Cents or Dollars or Millions?
Are you looking to create great looking videos at affordable prices? What should you expect to find? Well, the cost of shooting, editing, and submitting a video isn't just one size fits all pricing. Every marketing freelancer wishes they could simply quote a number, but the answer is x + y + z = $p  (the price of an affordable yet effective video).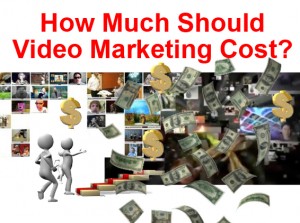 In order to answer this question of x + y + z = $p, you need to realize it is similar to asking, "How much does a house cost?" or "What is the price of a car?" You need more information like what kind of house? A house in the suburbs with a 3 car garage? A house in the Hamptons with 2 pools and a 10 car garage? What kind of car? How many doors?   Well, you get the idea. In this article we will go over some of the variables that need to be considered in figuring out the cost of a marketing video.
Why A Misunderstood Bid Can Cost You More Money
If you are getting a video bid based on not exactly understanding what is being bid on; it can come in too low or too high. You don't want to be overcharged or ripped off either. Pricing can have many variables; there is no set standard average.  Let's go over the major four key variables just in the planning stage and then get back into pricing. It is best to have established goals in mind before you have someone create, produce, and work on just one video let alone an entire video marketing campaign.
4 Things To Consider In Planning A Marketing Video
1. Unique - Every video is going to be custom tailored and unique. Some are going to need voice over and graphics and then there are some that will not need any shooting at all.
2. Technical quality - Will you need animations? Is it just a slide show? How much editing is going to be needed? Will a video crew be needed or a simple Flip cam?
3. Time - How long will it take to shoot this? One day or ten? Maybe no shooting at all, using pictures instead? How much editing time will be required to put in the music, animations, and effects you desire etc.?
4. Length - The longer the video the more it will cost and the more time it will take to edit. Most web videos range from 30 seconds to 2 minutes depending on the purpose for the video.  Can you get your message across more effectively with extra time or will the viewer become bored?
Click On The Video Below To Check Out The top 8 Benefits Of Video Marketing For Your Business:
Video Production: Converting The Idea  (Videography):
Do You Already Have A Concept Or Will One Need To Be Developed For You?
If your concept is more expensive to produce than you thought, are you open to other concepts that can still achieve your goals within your budget? Do you have a clear vision from start to finish of what you want your video to be like? Do you want to convert prospect into raving fans?
What Exactly Needs To Be Shot Or Filmed?
This is an important question because it can help you quickly figured out major expenses such as what equipment or camera crews will be needed or maybe none at all. Are you shooting one video or a series? Multiple videos can be shot in one day and then edited later into many. Are you going to need a camera crew to come in and film you? Are you going to use film you shot yourself and just need to have it edited? The more footage that you have, the more there is to work with. The footage can only be as good as the footage you have captured, so film everything you can think of (skip the personal film of your family pet though). Is a script needed or is a director needed?
What If You Just Want To Use Pictures Or Live Far Away?
If you live far away where the St. Paul Marketing Team can't film you or don't have the time to be filmed, you can still get your business message out without the cost prohibitive expense of a live shooting. For example, still images or stock video clips with added music can be used or a voice over narrative.
What About Content?
Plan for the end result!  The goal is to get great comments and views to help it to go naturally viral by viewers that want to share your video.  This should be due to its useful unique content. This is not an accident; planning a great script is well worth the time, effort and cost.
Cost For Production?
On average most companies will charge between $50 and $150 an hour for the people with will be needed to be involved in key production activities such as shooting, directing, editing and submitting. Having a director and rehearsing your lines is very cost effective. Film can only capture so much.
Live Video Shooting:
Do You Need To Shoot Your Video At Your Workplace?
Planning ahead for your shooting is very cost effective. How many days of shooting are needed and where will it be? How long will each scene be? How many people will be included in the shooting? Are you going to need to shoot scenes in more than one location? Are there any specific requirements or constraints of each location? Will it need to be shot inside or outside? How much time will this take – one hour, all day or more? Will bad weather increase your shooting time? Are all the people needed going to be available at one shooting time?
Costs For Live Video Shooting?
The cost has so many variables. Two days worth of shooting versus one hour will make a big difference. The average range of shooting can cost from $250 to $700 for a full day.
Video Post Production: Phase After Video Is Shot (Editing):
After your video is shot or you have gathered your pictures, the next step is putting it all together: editing. This is the phase where the videos story is put together to communicate the key messages.  Will you need graphics or special effects? Will music be needed (Sorry, the Black Eyed Peas hold copyrights to the music you wanted)? What kind or none at all? How detailed do you want it to be? The average editing can take a minimum of 3 days. It should continue until you have it to where you feel satisfied with it. The more you put into the editing, the more you will get out of it.  Boring footage can be amazing with great editing. Will you need animation?
Costs For Video Post Production (Editing)?
The average range of a editing is $60 – $200 an hour, but some Hollywood people will rip you off for twice that (send the money to your favorite charity instead). You can save money by looking for packages offered.   If you need complex 3D graphics or key frame animation added, you can figure on a range of at least $125 to $350 an hour.  The more detailed and animated the more it will be.
Video Search Optimization (VSEO): After Videos Are Done And Video Submissions:
Already have a video but need to get it more exposure? Once you have a video how are you planning on getting people to know it exists and to want to watch it? This is the submission phase where your video will be submitted to top online video sites. This includes optimizing the title, tags, and descriptions. This is the art of promoting it and submitting it out to social networks. The rules and sites are always changing. This can take up far more time than most professionals have time for (of course they will make time of you pay them more and more). The correct SEO needs to be incorporated into your video to get the search engines to pick it up so millions of people will watch it. If done right, they will increase your companies brand awareness and recognition.
Costs For Video Search Optimization?
Video coding and tagging can range from $60 to $150 or more per video.  The best deals are usually found in packages offered.
So What Is The Average Cost Of A Marketing Video?
Wouldn't it be great if there were a simple math formula that would state X minutes of video = Y dollars? Not all marketing videos are equal and each has a different purpose. If you want your videos to earn views, comments and shares you have to give viewers something worth their time. The key is to have the same video marketing company take you from your goals right through the finished product.
Is There A Way To Save Cost On Video Marketing?
• Shoot your own footage and then have it edited by adding graphics, transitions, animations etc.
• Have a reference video for comparison so you can see how much something like that would cost for the vision, message and purpose you prefer.
The best suggestion overall is to talk to dial 651-731-0764 for the St. Paul Marketing Team. Of course there are other reputable companies too, but we are the best – (all right just a little bragging rights here). We can help you define your goals no matter if you are planning just one video or a serious of videos to add to a video marketing campaign. This will help you save time, effort and costs on the variable expenditures, yet proudly finish with a quality video.
Question Back To You…
Is it better to try to save on all the variable costs of your video (trying to learn as you do it all yourself) or save time and effort going with experienced professionals that will produce a quality video that will go viral? Remember it is your brand that is at stake! Feel free to comment below about your experiences and share this if you find this was valuable.
Share and Enjoy:
Posted on July 21, 2012
in Video Marketing
Leave a comment