How To Use Videos For Marketing Your Local Business: 7 Types
Why Use Videos For Marketing?
Are you looking for a way to standout from your local business competition? In this post we will be analyzing the 7 different types of videos to use for marketing your local business. The secret is out – there just isn't a better way to market or leverage your time and money than with videos! Video marketing is where you can leave your competitors in the dust. It's the easiest, fastest, and cheapest way to get the strong online branding you deserve. Attracting more prospects is essential for any small business. Videos keep your viewers engaged while you quickly gain their trust as they get to know you. They can be targeted to certain viewers and not just the general population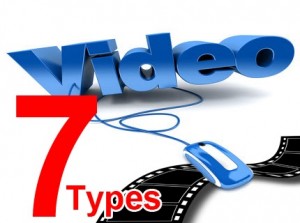 Even If Your Business Operates Completely On An Offline Basis (Brick And Mortar), It Will Benefit Immensely From Video Marketing:
- Videos are cost-effective, get into the search engine quickly, and can produce leads.
- Smart phones are growing in popularity and more people are spending their time watching web videos.
-If done correctly, videos can magically convert your prospects into long term clients, customers or subscribers.
What Are The 7 Types Of Videos To Use For Your Local Business?
1. Educational Video
Solving customer's problems makes businesses profitable. Rather than turning prospects off by trying to sell to them, you can deliver information to solve their problems through educational videos. Use educational videos on your website to engage your viewers anywhere you might use facts or statistics rather than using text. This will position and brand you as an expert in your field.
Educational videos are also great for vlog posts. Vlogs are similar in content to a written blog, but having a video instead of text will capture your viewer's interest. A video blog site should be regularly updated with short videos that are usually under 5 minutes (2.5 minutes is best).
Click Below To See An Example Of An Educational Video On What Is Off Page SEO:
2. Testimonial Video
Ever been to website where they have testimonials like this: "He was the greatest Doctor I have ever been to! Chris T. – St. Paul, MN." Would you really believe this was a real testimonial? Develop a library of "Social Proof" videos where real life happy clients and customers give video testimonials. Place these videos on your website and other sites. Unlike text, video testimonials show that this person is real and unrelated to the business. They are telling their real story about what the company, product, and service did for them. They are not anonymous, like the fake testimonials that you commonly see out there. When people are passionate about a product or service, they'll tell others. Likewise if they dislike like a product or service they may also make a video about that. This instills trust in prospects to help them feel like they know you before meeting you. Anyone can put up text testimonials, but a video from someone is more authentic and far more beneficial. Videos are the best type of testimonials out there and are also great for public relations.
Click Below To See An Example Of A Testimonial Video:
3. Facility Tour Video
If you are a brick and mortar business, a virtual video tour of your office is must to add to your video marketing library! This is where you introduce yourself and your business. Film a walk-through of your office and explain to viewers exactly what it is that your business does as you give a tour. This provides prospects with a pre-experience of what it's like to visit your office. This pre-visit video will allow you to stand out from the competition.
Customers like to search online for themselves, so make sure your video stimulates their interest. Show them what it is like from the moment they enter your building until when they leave. For example, if you are a dentist and a prospect is searching the web for a dentist and is able to view a virtual tour of your office, meet your staff, and preview an expected experience, it would be a priceless! They will feel like they have actually been there and been a patient. After seeing your video they would know what to expect. This will build their belief that they have found the right place where they feel comfortable and will then make an appointment.
Start your video from the street where they turn into the parking lot, viewing both the front and back of the building, the parking lot, the entrance, the waiting area, x-ray rooms, and other rooms as they approach the dental chair. Along the way they can meet your staff doing what they normally do. It would be a great video to put in the "about us" section of your website, in local directories, and many more places on the web. Make sure to tag and code it correctly so when a local prospect is searching for your type of business, your business shows up.
Click Below To See An Example Of A Facility Tour Video Of A Podiatrist In Minnesota:
4. Special Events Video
Do have a special event or sale coming up? Use this type of video to promote a future sale or event. This is an excellent method to advertise your video in front of literally millions of people who use the Internet and social media. Facebook, Twitter, and Google+ are great sites to showcase special events videos. Create short, concise videos highlighting your upcoming events, business specials, coupons, and price reductions.You can make a video of an upcoming online webinar or a special sales event, and play it as often as needed. You can also email these videos to your subscribers. Videos can also be used to motivate potential prospects to register for an event and, webinar. Remember not to post the video so often that the viewers feel they are being spammed.
Click Below To See An Example Of A Special Event Video:
5. Advertising Video
If you were in an elevator with a stranger and as the doors closed and the stranger asked you, "What does your business do?" Your answer would be called the famous elevator speech. Likewise, an advertising video has 30 seconds to capture a prospects attention before they lose interest. These video ranges from 30 seconds up to 2 minutes. Just as in the elevator speech you need to capture their attention and interest while getting them to like and trust you. In these videos focus on how you can help solve a problem they may have. Just like a traditional TV commercial, these videos can advertise advantages of your product or service to prospects. This is an excellent opportunity to explain the best features of your product or service and how you have the solution that will ease their pain. Unlike traditional TV commercials, these videos can be directed at a targeted audience and can even go viral. Developing the right script, filming, editing, coding, and distributing these videos can produce years of free advertising. Getting professional help would be an excellent return on investment as these videos will make or break viewers opinions. These types of videos are great to dominate a key word or niche for local SEO. Make sure they are coded and tagged so they land on the organic section of your keyword.
Click Below To See An Example Of Advertising Video Of Rise Above The Rat Race Book:
6. Landing/Capture Page Video
This video is placed on either a capture page or the home page of a website. It is about 5 minute or less (2-3 works well) in length. It engages a prospects attention while it tells the viewers who you are, what you do, and why they need your product or services. It ends with a call to action such as asking them to put in their name and email in the form below to receive a free DVD or EBook, etc. These types of videos offer prospects something free in exchange for their name an email or clicking on a link. This captures the prospects Email which places them on an auto-responder or calling list. It may even ask them to buy something. It gives prospects a taste of what your company is all about, how your product or service can solve their problems. These videos lead your prospects to the next action step you want them to take such as: fill out the form, put in their Email, register, or buy before leaving. This is another video where if you lack experience, professional help is a wise investment! You can't just turn on a camera, sit in a chair, and get them motivated enough to take the next step.
Click Below To See An Example Of A Landing/Capture Page Video For A Plumber In Hudson:
7. Tutorial Video
The best way to show "how to" do anything is by providing a visual demonstration. You can create educational tutorial videos for your staff or team for when step-by-step information is needed. This works great when your team is far away or you can't be there. These can be repeated over and over as needed, while it gives the personal feeling that you were right there with them. This leverages your time. Just demonstrate it once, capture it on a video, and give instructions step-by-step. These types of videos will go on to train, motivate, and sell forever. These videos are appealing because they are visually engaging and much easier to follow than a boring printed manual. You can help ease the learning curve of a new product after they purchased it. Think of the difference between reading a recipe versus watching a video of someone doing each step of the recipe. You can visualize each ingredient, and see how to do it. These videos can be used to provide useful information, skills, and needed steps while simultaneously establishing you as an expert in your niche. Film short videos about common questions or problems a beginner would face.
Click Below To See An Example Of A Tutorial Video:
How to Start Your Video Marketing?
The best way to get started is to jump in and try it. Tap into the free marketing power of using YouTube The videos you produce should be between 30 seconds to 3 minutes of length. Any longer can be a real turn off. Once you have created and uploaded your videos, you can easily embed them in your website and then link to them over the Internet on social media sites, emails, forums, and other Internet video communities. Be sure to link and code your videos so that your fans, followers, and viewers can spread the word virally and also so people can find you when they Google.
Millions of people are watching videos online, so place your video ads among the choices they have available to watch!
How Do You Take The Hassle Out Of Doing Videos?
Do you want to implement some of the ideas of marketing with videos and reap the benefits, but need assistance in doing so? Using videos doesn't mean you have to be an expert in scripting, filming, editing, coding, and distribution. We can "do it for you" at the St. Paul Marketing Team. We take the worry out of writing the script, filming the videos, editing, coding, and submitting them to sites. We leave a positive impression in your prospects mind with a professional result. This is cheaper than any other form of advertising such as the yellow pages which ends up being a booster seat for a toddler. This leverages your time to do what you do best, run your business. We only take one business per niche, so contact us today before your competitor does!
Now, it's Your Turn…
Do you include videos in your marketing plan? What kind of videos do you have in your video marketing library? What video marketing tips do you have to share? Please leave your comment below to share with others.
Share and Enjoy:
Posted on January 4, 2012
in Video Marketing
Leave a comment