How Do You Increase Your Page Rank?
What Are Steps You Can Take To Enhance The Page Rank Of Your site?
You increase your page rank by having numerous one way, permanent, relevant inbound links. The key to rising to the top of the results page is to have more links linking to your site than your competition.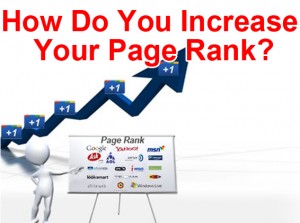 In order to get a high page rank it takes more than just the highest number of links pointing to your website. Google also looks at votes of relevance. It looks at the quality, status and page rank of what you are connected to. If you are getting a link from a site with a high page rank it pushes your rank up. Google, Yahoo and Bing gives votes of relevance to your website not only when the websites that link to your website have a high rating, but also the quantity of links, relevant content, and keywords in their anchor text. When Google sees a site that has your link it counts it as that site is endorsing your link which makes your website look relevant and trusted (earns a vote).
The new big player in the page rank game is Google One Plus. Click on the video below to learn more:
One of the ways to get links is to use meta-keyword tags, but don't overdo it. Use h1 tags (the title that tells what the page is all about), link your page on other websites and social bookmarking sites, provide an RSS, and keep your site regularly updated. Blogs are great as they are constantly feeding the search engine new relevant rich content. Never let your site sit idle for days at a stretch as search engines count the frequency of traffic.
There are two main types of SEO (search engine optimization) on page and off page. All these teeny tiny steps will in time raise your page's rank which will increase traffic to your site. See our other blog post on page rank. 
Share and Enjoy: